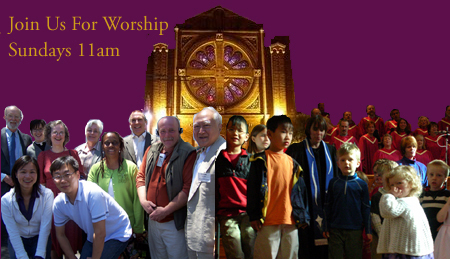 Church Newsletter | Sermon Index
Old First Presbyterian Church is an inclusive community of faith united by trust in God and faith in Jesus Christ. We warmly welcome all who accept and respond to God's saving grace in Jesus Christ and who desire to participate in the life and ministry of this church.
Established in 1849, we are the oldest active Protestant congregation in California. We are constantly renewed through a wide spectrum of activities, and of course, through new members and visitors.
Nepal Earthquake April 2015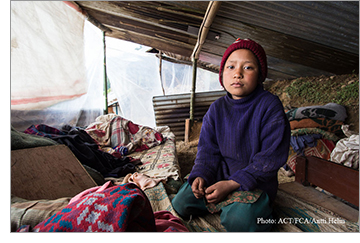 "I'm still afraid", says 10-years-old Sasmita Susmitalopchan. He is sharing his temporary shelter with seven other families.
Situation
Just a little more than two weeks after thousands of people died in the massive earthquake that struck on April 25, a second earthquake hit Nepal. The second earthquake measuring 7.4 struck north-east of Kathmandu on May 12, 2015. At least 64 people were killed and 2,000 people injured. This figure is likely to keep rising as rescue services gain access to those affected. The quake has caused an increase in landslides in many areas of the previously affected districts. Houses and buildings that were partially damaged from the previous earthquake have now collapsed, and damage to areas that had sustained little or no damage from the first earthquake is now being reported.
Presbyterian Disaster Assistance Response
PDA's partners in Nepal through ACT Alliance have been distributing immediate life-saving supplies since the first quake on April 25, such as water, food, shelter and medication to over 40,000 people in some of the most severely impacted districts; and will continue the relief and assessment efforts.
The increased landslides aggravated by the second quake, together with the coming monsoon season in June, pose numerous critical challenges for travel to the affected areas, particularly those which are located in rural and remote areas.
PDA is committed to the long-term response. As long-term recovery plans are developed, PDA will accompany and further financially support our partners in the area to ensure a comprehensive recovery is sustained.
We ask your prayers for the people of Nepal who once again are seeking safety in open areas; and we ask your prayers for our partners and all who are engaged in the relief and recovery efforts.
For more information, visit www.pcusa.org/pda.
---