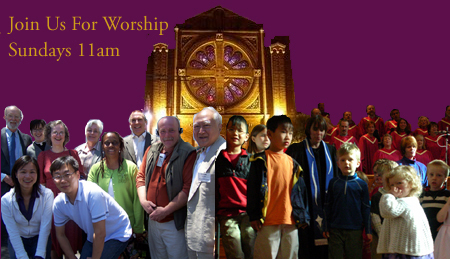 Vision Document | Church Newsletter | Sermon Index
Old First Presbyterian Church is an inclusive community of faith united by trust in God and faith in Jesus Christ. We warmly welcome all who accept and respond to God's saving grace in Jesus Christ and who desire to participate in the life and ministry of this church.
Established in 1849, we are the oldest active Protestant congregation in California. We are constantly renewed through a wide spectrum of activities, and of course, through new members and visitors.
Maggi's Musings - May 2013
Pastors have three statements that tend to make us roll our eyes. Statements like "It must be a great job because you only work on Sundays," or "I am spiritual and not religious." Another one is when after we've been away for a continuing education event, people ask, "How was your vacation?" We say "it wasn't a vacation, it was continuing education" probably with a tiny bit more passion than they expect.
I've come to understand those statements are one way of saying you were missed, but also happen because we don't often share news about our time away and why it is vital to us and the church. Actually, it isn't just vital - it is required. According to my contract, I am supposed to take two weeks of continuing education a year and, if I don't use it, the personnel committee is mandated to make sure I do. This is the same for every Presbyterian pastor. I think it's become a requirement rather than a suggestion, because wise folks know that pastors sometimes get so busy we just come to think we can't get away, or that we don't even need time away.
Pastors need to keep learning, being challenged, and being fed. I've discovered I need my spiritual reservoir to be refilled. I need time for my imagination to stretch. I need time to hear others voices. I need to have my faith and learning batteries recharged.
More than once, I have gone to an event thinking "I am so busy at work, I can't really spare the time away" and then find that I am thankful to be there and that the church really just does fine without me once in a while. So I want to share what I am doing for continuing education in 2013.
I have a yearly commitment to a group of clergywomen, The Round Table, who meet for four days each year. The group is made up of thirteen pastors from all over the nation, working in a variety of settings. We've been meeting for over a decade. We are committed to each other and to the church. Each year we go to a different location, take on a topic, read up on it, and share resources and sermons. This year we met in Chicago and our theme was interfaith issues. We shared sermons and lesson plans, read books by Abu Patel, and met at the office of Interfaith Youth Core (www.ifyc.org). After twelve years, we've developed deep knowledge of - and care for - each other. If you were to walk past one of our meeting rooms, you'd often hear laughter erupting from the space. We work hard during the day. Then, in the evenings, the formal work ceases and we enjoy each other's company, we eat good food and we play. This year we met in Chicago, so I also went to a taping of the radio news-quiz show "Wait Wait Don't Tell Me" (http://www.npr.org/programs/wait-wait-dont-tell-me) and discovered the joy of a Chicago hot dog.
In May, I am taking part in the Annual Recreation Workshop at Montreat, North Carolina (www.recreationworkshop.org.). This is a five day event focused on creation, worship, community, creativity and the arts. I am especially excited to take a workshop called "Playing the Lectionary."
Playing the Lectionary: All too often our church's programs and activities separate one another by age, station in life, interests, etc. We often sacrifice the church family coming to know one another by a heavy focus in demographic planning. In this workshop, we will start with the lectionary passages and build creative and fun intergenerational events including all ages and all reaches of our church life. We will seek to follow the guidance of the Holy Spirit and build the church family using the lectionary as a starting point and using those scriptures as the focal method of deepening our church family connections.
Many of you know that on my sabbatical I started a program with McCormick Seminary, (www.mccormick.edu) to earn a Certificate in Executive Leadership. We meet for four three-day meetings in San Leandro. In March I finished up my classes with the theme Change, Collaboration and Conflict. I will finish my Capstone Project (a paper) in June. My hope is that after the paper is done, I can revisit my notes, my assignments and books and see how I can incorporate what I have learned into my on-going ministry.
So how can I tell if a continuing education event has been successful or enhancing? Sometimes it is comment from a member who says "You have really come back with energy," or "I can tell in your sermon that you got renewed while you were away." It may be a just one great idea or a new alternate way of looking at an old challenge. It is a combination of head, heart, and fellowship. Ultimately, it is when I find myself recharged to be your pastor and to follow in the ways of Jesus.
Peace, Maggi