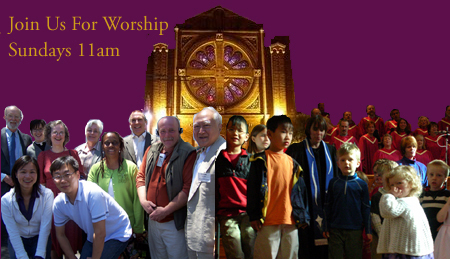 Church Newsletter | Sermon Index
Old First Presbyterian Church is an inclusive community of faith united by trust in God and faith in Jesus Christ. We warmly welcome all who accept and respond to God's saving grace in Jesus Christ and who desire to participate in the life and ministry of this church.
Established in 1849, we are the oldest active Protestant congregation in California. We are constantly renewed through a wide spectrum of activities, and of course, through new members and visitors.
---
NOTICE: NO MORE PARKING
IN BOFA PARKING LOT
ON SUNDAYS
January was the last month of our lease for parking the Bank of America lot for Sunday worship. Beginning Sunday, February 7, please park in the Old First Garage or use on-street parking.
---
The Season of Lent:
A Gift of Time, an Opportunity to Deepen Our Spiritual Life
On the Presbyterian Church (USA) website we read this description of Lent:
The season of Lent is a time of prayer, fasting and self-examination in preparation for the celebration of the resurrection of the Lord at Easter. It is a period of 40 days — like the flood of Genesis, Moses' sojourn at Mount Sinai, Elijah's journey to Mount Horeb, Jonah's call to Ninevah to repent, and Jesus' time of testing in the wilderness. (The Sundays in Lent are not counted in this reckoning of the time between Ash Wednesday and Easter, as every Lord's Day is a celebration of the resurrection of Jesus Christ.) In the early church, Lent was a time of preparation for the celebration of baptism at the Easter Vigil. In many communities of faith it remains a time to equip and nurture candidates for baptism and confirmation and to reflect deeply on the theme of baptismal discipleship.
At Old First Presbyterian we see Lent as an opportunity, an invitation – maybe even as a kick in the pants – to deepen our spiritual lives, to let go what binds up our minds and hearts and to make room for God. I think it was Henri Nouwen who reminded me that we need to empty our minds and hearts so we can "hear" God's voice, feel Gods nudge, and witness God's interaction in our lives. For me, emptying means making time to focus on the spiritual, on the words and ways of Jesus, on listening to others' wisdom and on praying for something new to sink roots into my mind and heart.
What I value about Old First is the many opportunities for spiritual growth. I hope that there may be one or more that work for you: art, music, devotionals, classes. I am particularly excited that this year we are offering a three week seminar starting February 21 on learning, experiencing, trying new and old spiritual practices.
So join me at Ash Wednesday worship, February 10 at 7:00 at St Luke's Episcopal Church for the beginning of a Holy Lent.
Peace, Maggi