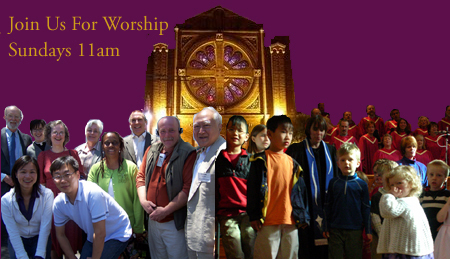 Church Newsletter | Sermon Index
Old First Presbyterian Church is an inclusive community of faith united by trust in God and faith in Jesus Christ. We warmly welcome all who accept and respond to God's saving grace in Jesus Christ and who desire to participate in the life and ministry of this church.
Established in 1849, we are the oldest active Protestant congregation in California. We are constantly renewed through a wide spectrum of activities, and of course, through new members and visitors.
Maggi's Musings - October 2014
As October comes around once again, so does the yearly Peacemaking Offering taken on the first Sunday of the month. As your pastor I did all the proper things to prepare for the offering: I made sure information about it got in Shared Life and the bulletins, I let the proper committees know what was coming up, so they could do their work related to the offering, I saw that special inserts and giving envelopes were placed the bulletin, and I reminded those that take up the offering to be on the look-out for incoming offerings.
I did all the right actions, except somehow I didn't let peace get into my heart, my mind, and my actions.
I confess that all the chaos in our lives and city, the talk of more troops in the Middle East, frightening wars and unrest erupting around the globe, and escalating illness and hunger in our world had kind of numbed me. It wasn't that I was hopeless, but rather I just had forgotten to be hopeful.
It isn't ultimately about collecting a peacemaking offering but about reviving our hope, our longing for peace, and about recommitting ourselves to follow the Prince of Peace. Thankful that I was shaken out of my numbness, I began to hear the whisperings of an invitation, a challenge to open myself to hope once again. I began to see things with different eyes: I remembered an E-mail from a group at the church urging me to write Governor Brown about upcoming bills to deter gun-violence… and I actually wrote him. I looked again at our church website (www.pcusa.org) and read about what we as Presbyterians are doing as peacemakers and was thankful and inspired by PC(USA) mission co-workers Nancy and Shelvis Smith-Mather. Here is an excerpt:
Many in the U.S. view South Sudan as a place of violence with little hope for change. That perception leads to one of the most common questions mission co-workers Revs. Nancy and Shelvis Smith-Mather get.
"They ask, 'Why should we be a part of what's happening there?'" Shelvis says. "It's a valid question, one that is rooted in our fear, but what distinguishes Christians from others is our unrelenting hope. We serve an Easter God who tells us over and over again that miracles happen. So my answer is 'How can we not go there?'"
South Sudan is not only the world's newest nation but is also one filled with people who have experienced the greatest suffering. The Smith-Mathers say the vast majority simply want to heal. "While it's important to acknowledge the violence, it's equally important to acknowledge those trying to work toward peace." Shelvis said. "It's a country that has suffered great loss, hurt, and oppression, but to see such faith in the midst of such pain is inspiring. One of the main phrases in the town we're in is 'God is present.' You can feel overwhelmed, but because God is here, there is hope. This is not the end of the story; there is a chance for change."
The Smith-Mathers serve alongside South Sudanese at RECONCILE International's Peace Institute, a program formed in 2009 to train leaders to become peace builders in their communities. "RECONCILE is an example of South Sudanese Christians who have seen the chaos, despair, and historical injustice," Shelvis says. "They've seen all this but want to be a part of making a difference with God's help." Calling the program "uniquely South Sudanese,"he says it addresses issues in a spectrum of ways bringing together different regions that have been in conflict with each other, being a part of the healing process in communities that experienced direct violence, and training chiefs and elders as well as elected leaders in reconciliation.
"How can we stand back and not be a part of trying to make a difference, not be a part of showing God's love and presence?" Shelvis says. "Sure there is uncertainty, but as Mother Teresa once reminded us, God is not calling us to be successful; God is calling us to be faithful."
May the God of Peace awaken hope in all of us and may we become peacemakers, peace sharers, peace givers– in our homes, in our church, in our city in and our world.

Peace, Maggi