Old First Presbyterian Church is an
inclusive community of faith
united by trust in God and faith in Jesus Christ. We warmly welcome all who accept and respond to God's saving grace in Jesus Christ and who desire to participate in the life and ministry of this church.
Established in 1849, we are the oldest active Protestant congregation in California. We are constantly renewed through a wide spectrum of activities, and of course, through new members and visitors.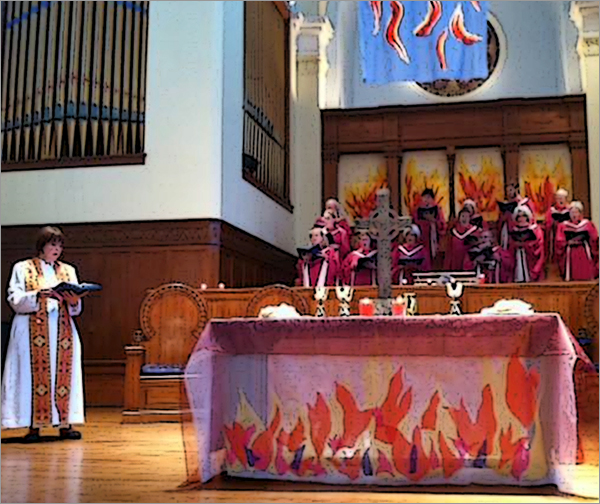 Church Newsletter | Sermon Index
---
Maggi's Musings - July & August 2017

Some of you know that I am reader. In this town I have three library cards: The Public Library, the Mechanics' Institute Library and the Library at the Jewish Community Center. I have a "to read" shelf at church that has much of the latest in church thinking and classics begging to be read. I have a Kindle so I can have books when I travel, be it on Muni or on a plane to France. Though I have a Kindle, I am still a "book person." I am a hold-it-in my-hand-and-touch-the-paper kind of gal. I take secret pleasure in recording the titles and authors of each book I read in a worn orange note book.
Yet, if confessions be made, I don't read all the books I check out, borrow, or own. I read about a third of what I check out from the library and I skim more church books these days than read them cover from cover. But one thing I read every month is the Christian Century Magazine. (See www.christiancentury.org.) I was introduced to it by a senior pastor some twenty years ago, when he "regifted" me the old copies he had. I said thank you, glanced through them and recycled them. Somewhere along the way I started actually reading the magazine. I discovered the articles kept my sometimes dusty mind out of lingering in the past or away from creeping into laziness. Its writings spoke to my world and challenged me on issues I hadn't had the time or compassion to pay attention to. I now tear out articles and share them with members and put articles away in files to access later. You often see clippings that I find provocative on the bulletin board downstairs near the Munro Room. This year I have found the writings on political matters in the United States and around the globe particularly insightful. I know a magazine is rather old fashioned but it keeps me in community with Christians and people of faith across the country and around the world. I find that when I have to turn the pages I read more broadly than I do when I click on articles in the on-line edition. Who knew I would become so "old school?" The pages inspire and challenge me, and sometimes the words make me laugh.
In May, the week after our six confirmands joined the church, I found myself chuckling over an article written by the publisher Peter W. Marty about questions from his confirmation class. (Marty is the senior pastor of St Paul's Lutheran Church in a town in Iowa.) He caught the depth and the mischievousness of confirmands, and his words reflect why Erwin Barron and I felt blessed to teach confirmands. You can read some of the article below.
So my challenge to you these summer months is for you to dust off your library card – or get one for the first time! Take time to read something and give it your attention and your heart. Maybe it will breathe a bit of life into your soul, your imagination, your tiredness. See what speaks to your life or your faith. Heck, be wild, pick up a Bible! Read a chapter of the Gospel of Mark or John. Read a few pages every couple of days. Try a psalm a day, or the same psalm all week long. And – by now you know this is coming – check out The Christian Century at www.christiancentury.org... or go old school and subscribe.
Peace, Maggi
---