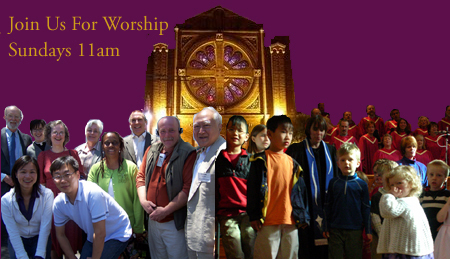 Church Newsletter | Sermon Index
Old First Presbyterian Church is an inclusive community of faith united by trust in God and faith in Jesus Christ. We warmly welcome all who accept and respond to God's saving grace in Jesus Christ and who desire to participate in the life and ministry of this church.
Established in 1849, we are the oldest active Protestant congregation in California. We are constantly renewed through a wide spectrum of activities, and of course, through new members and visitors.
---
Maggi's Musings - December 2016
I find myself ready for, maybe even longing for, Advent this year.
Sunday, November 27 marked the first Sunday in Advent, the beginning of the Christian year. Advent comes from the Latin word for arrival and anticipation. It includes the four Sundays before Christmas and the weekdays in between. It is a time of cultivating, growing our anticipation, our hope, and our awareness of how the birth of Christ has changed the world in the last 2,000 years and of how it still hasn't let go of us.
This Advent I feel an urgency, a new desire to renew my sense of hope and my efforts to follow in the ways of Jesus. So I going to cultivate hope this advent as I was inspired by this quote by the late Daniel Berrigan:
Our Advent hope calls on us to write, with our lives, a new history,
the history of lives lived in justice and peace.
Here are some good opportunities for cultivating hope:
Read and pray the Advent devotional "From Heaven Above." Get one from usher on Sunday or call the church office to have us send you one.
Use an on line devotional like www.d365.org or Richard Rohr's daily devotional – just navigate to cac.org/category/daily-meditations.
Open yourself to the art, music, liturgy, words and movement in worship.
Care for others by filling the S.F. Food Bank barrel in the narthex with food that's always needed: December 4 – canned tuna or meat, December 11 – cereal or oatmeal, December 18 – beef or turkey chili, December 25 – Spam.
Say "Thank you," "I'm sorry," and "You matter," with ease and frequency. Listen deeply. Talk less.
May Advent write new hope into our lives this season and transform us to be lights of justice, peace and hope in San Francisco and the world.
Peace, Pastor Maggi
---
Brighten the Holidays for a Homeless Young Person
Bring a Christmas gift to church on Sunday, December 4, and help Larkin Street Youth Services brighten the holidays for over 450 young people who stay in Larkin Street's emergency shelters and transitional living facilities or access Larkin Street's drop-in centers and programs. 
Gifts do not need to be expensive.  Gift cards are always popular, especially from retailers such as Ross, Gap, Payless, Macy's, Old Navy, REI, Safeway, Trader Joe's, Target, Sports Basement, Peet's, Starbucks, Walgreens and Best Buy. All gifts must be new and unwrapped.  Everyday items are much needed. 
For youth wish lists of personal care, clothing, and household items, and options for delivering gifts, please see this month's Shared Life.
---
Christmas Eve Prelude and Worship, December 24 - 7:30 pm
The Christmas Eve service begins with an extended prelude, a half hour of sacred Christmas music for organ, harpsichord, chancel choir and soloists, at 7:30 pm followed by the 8:00 pm Christmas Eve Service.
Christmas Day Worship Service, December 25 - 11:00 am
Our worship on Christmas Day, December 25, will include lots of singing and much joy, and for the coffee hour, we will bring home-made and other amazing treats to share with each other. If there are treats left over, you'll have a chance to take some home with you – like an old fashioned cookie exchange.
New Year's Day Worship Service, January 1 - 11:00 am
On January 1 we will celebrate the Epiphany of Christ, so I'm looking for people to tell me about their interactions with their "star words" from this past year. Please contact me by phone or E-mail. I'd like to hear from you! Pastor Maggi
---