Old First Presbyterian Church is an
inclusive community of faith
united by trust in God and faith in Jesus Christ. We warmly welcome all who accept and respond to God's saving grace in Jesus Christ and who desire to participate in the life and ministry of this church.
Established in 1849, we are the oldest active Protestant congregation in California. We are constantly renewed through a wide spectrum of activities, and of course, through new members and visitors.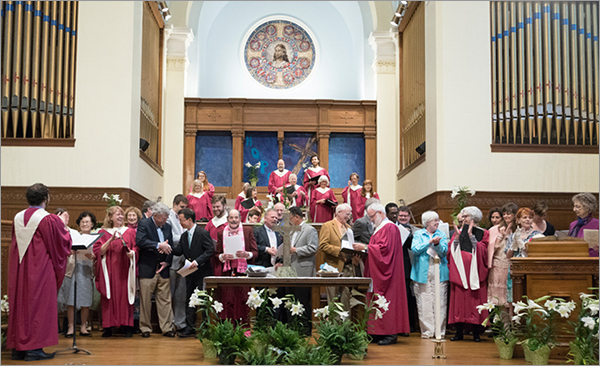 Church Newsletter | Sermon Index
---
Brook Scott: Internship Reflections - May 2017
I am sad to say that my seminary internship will be coming to a close at the end of May. I have thoroughly enjoyed my experience at Old First! Your faith community is so welcoming. Thank you for making me feel so involved, included, and valued while I've been here. Highlights include the inspiring retreat at beautiful Mount Hermon in October, watching all the donations pour in to support refugee families, and being part of the Advent and Easter seasons with you.
I learned so much while I've been under your care. Pastor Maggi has been a terrific mentor! As I was given a larger role in worship each week, I really was able to learn the ropes. It was a great vote of confidence when Maggi asked me to lead worship on the Second Sunday in Easter! The greatest thrill for me has been preaching from the pulpit. Thank you for listening to me as I discovered my "voice." Thank you to my Shepherding Committee: Erwin Barron, Susan Ashton, Courtney Blake, George Yu and Linda Reyder, for your wisdom and guidance, especially tips on how to be a more effective speaker!
Lastly, I'm really impressed by all that Old First does! I've really enjoyed the different roles that I've been able to play at Old First. I want to thank the leaders on various committees for letting me play a leadership role alongside you: John Kramar with Planning, Bryan Nichols with Bible Study, Bill Campbell with Mission, Hsiaochien Chuang and Linda Reyder with Worship, Robin Currier with Deacons and Pastor Maggi with the book group on Waking Up White. A big thanks to Brad Peterson for helping me come up to speed on how the office runs. Thank you, Larry Marietta, for your magnificent assistance with music for worship. And thank you all for your wonderful support, encouragement and friendship! I will miss Old First but will have many fond memories.
Yours in Christ, Brook Scott, Seminary Intern