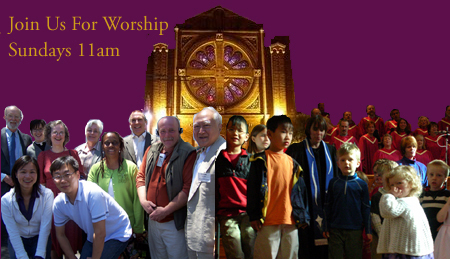 Church Newsletter | Sermon Index
Old First Presbyterian Church is an inclusive community of faith united by trust in God and faith in Jesus Christ. We warmly welcome all who accept and respond to God's saving grace in Jesus Christ and who desire to participate in the life and ministry of this church.
Established in 1849, we are the oldest active Protestant congregation in California. We are constantly renewed through a wide spectrum of activities, and of course, through new members and visitors.
Old First Presbyterian and St Andrew's East Parish Pulpit Exchange:
"WELCOME, BARBARA QUIGLEY!"
From July 5 through August 9 this year, Old First Presbyterian Church and St Andrew's East Parish Church (a parish of the Church of Scotland in Glasgow, Scotland) are getting to meet each other's pastor and worship with her. On Sunday afternoon, June 28, our pastor Maggi Henderson flew to Glasgow, Scotland, where the minister of St Andrew's East, the Reverend Barbara Quigley, met her and began introducing her to the congregation in Glasgow.
On Thursday, July 2, Barbara flies to San Francisco. She'll settle in to Maggi's house over the weekend and lead us in worship on Sunday, July 5. Barbara will be in residence as our pulpit exchange minister through mid-August and will then take vacation time seeing more of Northern California. During this period, Maggi will be doing pastoral work with and among the people of St Andrew's East including preaching and leading worship on Sundays. As Barbara will do, Maggi will also take vacation time at the end of August seeing more of Scotland. Maggi will return to lead worship on August, 30.
During Barbara's time with us, she will lead worship and preach, meet and work with participants of our various programs, and offer pastoral care for church and community as Maggi does. Note that she can be reached by telephone at the church office 415-776-5552 and and via e-mail at barbara@oldfirst.org.
There will be a festive coffee hour after worship on Sunday, July 5, to celebrate her arrival. Please join us for worship and the coffee hour to welcome Barbara.
Reminder: Please wear your nametag for the next few Sundays to help Barbara put faces and names together. If you don't have a permanent nametag, you can get additional adhesive name tags from the ushers at worship.